With busy schedules, demanding careers, and little time, many of us battle just to stay awake. But energy is something that is in our control, even when time is short. Now 50 years young, fitness guru Denise Austin shows readers how to super-charge their lives, using her innovative lifestyle plan. She eats the right foods at the right time of day. She uses the power of stretching and breathing to feed her body with energy-enhancing oxygen. She uses mini-workouts to get energy even on her busiest days–and now you can too!
Denise shows how simple changes can add up to increased energy levels throughout the day. From the foods they consume to the way they sit in their chairs, readers won't believe how Denise's quick and easy plan will dramatically increase their energy levels. In as little as a week, results will be felt: radiant skin, more restful sleep, and a sharper mind…so follow Denise Austin and prepare for a fitness wake-up call!
I chose to review Get Energy! by Denise Austin because it is not a diet book. Rather at age 50, Denise Austin gives readers a glimpse into her life and how she manages to have so much energy. Austin speaks about the various things that can drain one of their energy and small, easy, and do-able ways to regain energy from drinking more water to eating enough food. Austin does offer some stretches to wake one up, but does not preach about hours of exercise or starvation diets, rather offers the reader a realistic approach to aging gracefully, reducing stress, and gaining more energy regardless of one's age. Austin offers a workbook type section for the reader to use for 14 days to help boost energy and reduce stress along with brief workout sections to gain energy. The book is written in a warm and inviting manner as though Austin is in the reader's living room having a casual discussion about how to find more time in one's day and how to reduce stress. I highly recommend Get Energy! to anyone who feels they could use a little bit more energy in their day, regardless of age.
To enter my giveaway:
1. Follow my blog publicly via Google Friend Connect (or tell me if you already do)-
1 entry (leave 1 comment)
2. Visit the
Author's website
, and come back to leave a comment on why you would like this book -
1 entry (leave 1 comment)
BONUS:
3. Vote for me on: We're on the Fence, TopMommyBlogs, and Ola Momma - 3 entries
(leave 3 comments)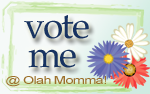 4. Follow
the author on Facebook
-
1 extra entry (leave 1 comment)
5. Follow
the author on Twitter
-
1 extra entry (leave 1 comment)
6. Follow me
@kimmie_1980
on Twitter (or tell me if you already do)
once per day
-
1 extra entry (leave 1 comment)
7. Tweet the following tweet,
once per day
for 1 extra entry
(1 comment) per tweet:
"
Win your own copy of Get Energy! by Denise Austin
@kimmie_1980
http://tinyurl.com/37tcapp
(01/16) #giveaway"
8. Follow me on
BlogFrog
-
1 extra entry
(leave 1 comment)
9. Follow me on
NetworkedBlogs
-
1 extra entry
(leave 1 comment)
10. Subscribe to my feed through email-
5 extra entries
(leave 5 comments)
11. Blog about this giveaway (please link back here, and leave the URL of where you blogged in your comment) - 10 extra entries
(Comment 10 times to qualify for bonus)
12. Add My button to your blog, and let me know where it's located - 5 extra entries
(Comment 5 times to qualify for bonus)
<a href="http://amoroccan-acat-and-my-bigass.blogspot.com/"><img src="http://3.bp.blogspot.com/_8If77NE0SuM/TAWWelUZWgI/
AAAAAAAAAao/385sy7l5VFg/s320/Button.jpg" /></a>
***Giveaway ends January 16th @ 11:59 ET!!!!
*** Make sure you leave the right amount of comments so you get the proper amount of entries. http://tinyurl.com/37tcapp
Please read the following before entering:
* This giveaway is available to US/CA readers.
* You must leave your email address in each comment OR it should be on your profile in order to win.
* Winner will be selected at random through random.org.
I WILL RESPOND TO EACH COMMENT ONCE WINNER IS SELECTED... I HAVEN'T FORGOT ABOUT YOU ALL!
I received a copy of Get Energy! for my honest opinion, and Hachette Book Group is offering a product to one of my readers. I did not receive any compensation or incentive nor was I required to write a positive review. Individual results or experiences may vary.