For the last couple years my PCOS has been completely out of control. One of the main symptoms that was taking over my life... the heavy periods where I would hemorrhage, and be stuck in the house until it was over. In October I had surgery removing my right ovary and fallopian tube, and I prayed that my menstrual problems would be cured... well it got worse. I was ready to give up, was more depressed then ever.
Well, I decided to do a google search and I stumbled upon the website
http://www.softcup.com/
for a product called Instead Softcups. I read about them and thought they looked like they might be great to try. I figured I had nothing to lose. Once I received them, I have to admit the look of the softcup was a little intimidating. I did however try one out, and came to the conclusion that I was never using sanitary napkins or tampons again. This product has been a real life saver, and may actually help me get off disability and back to work.
Instead Softcups are like a diaphragm. They have a rigid yet flexible plastic ring with a clear soft plastic cup attached to it. It molds to your cervix when inserted. This cup is meant to catch and hold the contents so it can hold twice as much as a tampon. That is why Instead can be worn up to 12 hours before you need to change it and there is no leaking. The biggest advantage is the amount of time one cup can be worn before having to change it. They are very comfortable to wear. You cannot even feel it! There are also other advantages of using Softcups. There is no latex in this product. It is made from Polyethylene which is also used in baby bottle nipples. These are completely safe to use. And finally, you can engage in intercourse with them in and it makes for a clean comfortable experience.
Instead Softcup is great for busy women, or women who just don't want to have to think about changing a pad or a tampon every few hours. It's also perfect for woman who suffer from PCOS or other syndromes that cause heavy menstruation. Athletes rave about how the Softcup carries them through a long race. Travelers don't leave home without it.
You can wear Softcup for up to 12 hours
Softcup is comfortable during swimming and sports
Softcup eliminates menstrual odor, since the menstrual flow isn't exposed to air
Softcup loves making love . . .you can wear Softcup during intercourse for less messy sex on your period
Softcup is comfortable—you can't even feel it once it's inserted
Most women typically use fewer Softcups than tampons or pads because of the long wear-time
Softcups have no wings, no strings. . . just freedom.
At the end of the first day of trying this product, I had tears in my eyes. I finally found a product that helps me live more of a normal life. I have to thank Kaitlin from Instead Softcup for giving me the opportunity of reviewing the product. She has also given me the opportunity to offer this product to three of my readers in a giveaway!
For the people who don't win... where can you buy these? Visit
SoftCup
to purchase online or for a store search online.
To enter my giveaway:
1. Follow my blog publicly via Google Friend Connect (or tell me if you already do)-
1 entry (leave 1 comment)
BONUS:
2. Vote for me on: We're on the Fence, TopMommyBlogs, and Ola Momma - 3 entries
(leave 3 comments)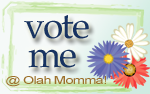 3. Follow
SoftCup on Facebook
-
1 extra entry (leave 1 comment)
4. Follow
SoftCup on Twitter
-
1 extra entry (leave 1 comment)
4. Follow me
@kimmie_1980
on Twitter (or tell me if you already do)
once per day
-
1 extra entry (leave 1 comment)
5. Tweet the following tweet,
once per day
for 1 extra entry
(1 comment) per tweet:
"
Win a package of SoftCup's and change your life!
@kimmie_1980
http://tinyurl.com/4kghwhe
(03/06) #giveaway"
6.
"Like" me on Facebook
-
2 extra entries (leave 2 comments)
7. Follow me on
BlogFrog
-
1 extra entry
(leave 1 comment)
8. Follow me on
NetworkedBlogs
-
1 extra entry
(leave 1 comment)
9. Subscribe to my feed through email-
5 extra entries
(leave 5 comments)
10. Blog about this giveaway (please link back here, and leave the URL of where you blogged in your comment) - 10 extra entries
(Comment 10 times to qualify for bonus)
11. Add My button to your blog, and let me know where it's located - 5 extra entries
(Comment 5 times to qualify for bonus)
<a href="http://amoroccan-acat-and-my-bigass.blogspot.com/"><img src="http://3.bp.blogspot.com/_8If77NE0SuM/TAWWelUZWgI/
AAAAAAAAAao/385sy7l5VFg/s320/Button.jpg" /></a>
***Giveaway ends March 6th@ 11:59 ET!!!!
*** Make sure you leave the right amount of comments so you get the proper amount of entries. http://tinyurl.com/4kghwhe
Please read the following before entering:
* This giveaway is available to US/CA readers.
* You must leave your email address in each comment OR it should be on your profile in order to win.
* Winner will be selected at random through random.org.
I WILL RESPOND TO EACH COMMENT ONCE WINNER IS SELECTED... I HAVEN'T FORGOT ABOUT YOU ALL!
I received a product
, in exchange for my honest opinion, and a review of my experience. I did not receive any other compensation or incentive nor was I required to write a positive review. Individual results or experiences may vary.