PANDEEZ™
is a disposable underwear that was designed with your convenience in mind. It feels just like your everyday underwear. However, it allows you to live your life with fewer interruptions because unlike your everyday underwear, you can wear and throw away without the need for washing. With PANDEEZTM disposable underwear, you can be confident that even if life presents unwelcomed interruptions, you will feel clean and fresh always. This is because you can easily put on a new pair of PANDEEZ™ disposable underwear when you have an accident in the work place, school, or anywhere else. Also, its special fabric can prevent stains from getting on your clothes.
PANDEEZ™ is the convenient choice that will make your life easy in many situations including:
• After child birth (Postpartum) - maternity patients need for postpartum bleeding
• During your period (Menstruation) - adults and adolescents can use as period underwear
• While traveling - business and leisure travelers can use for the convenience
• "On the go" - people with busy lifestyle can use during emergencies
Two styles: Low rise bikinis and high-cut briefs.
Sizes include: XS, S, M, L, XL, XXL
Each PANDEEZ™ pack contains five pairs of underwear wrapped individually. Each pair is about the size of a tampon and is conveniently packed to make it easy to carry around discreetly in your, pocket, purse, at work, or in your car.
To enter my giveaway:
1. Follow my blog publicly via Google Friend Connect (or tell me if you already do)-
1 entry (leave 1 comment)
2. Visit
PANDEEZ™
, and come back to tell me what style you would like to have -
1 entry (leave 1 comment)
BONUS:
3. Vote for me on: We're on the Fence, TopMommyBlogs, and Ola Momma - 3 entries
(leave 3 comments)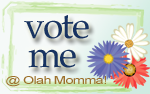 4. Follow
Pandeez on Facebook
- 1 extra entry (leave 1 comment)
5. Follow me
@kimmie_1980
on Twitter (or tell me if you already do)
once per day
-
1 extra entry (leave 1 comment)
6. Tweet the following tweet,
once per day
for 1 extra entry
(1 comment) per tweet:
"
Win your own package of Pandeez disposable panties
@kimmie_1980
http://tinyurl.com/3x9ud5f
(12/19) #giveaway"
7. Follow me on
BlogFrog
-
1 extra entry
(leave 1 comment)
8. Follow me on
NetworkedBlogs
-
1 extra entry
(leave 1 comment)
9. Subscribe to my feed through email-
5 extra entries
(leave 5 comments)
10. Blog about this giveaway (please link back here, and leave the URL of where you blogged in your comment) - 10 extra entries
(Comment 10 times to qualify for bonus)
11. Add My button to your blog, and let me know where it's located - 5 extra entries
(Comment 5 times to qualify for bonus)
<a href="http://amoroccan-acat-and-my-bigass.blogspot.com/"><img src="http://3.bp.blogspot.com/_8If77NE0SuM/TAWWelUZWgI/
AAAAAAAAAao/385sy7l5VFg/s320/Button.jpg" /></a>
***Giveaway ends December 19th @ 11:59 ET!!!!
*** Make sure you leave the right amount of comments so you get the proper amount of entries. http://tinyurl.com/3x9ud5f
Please read the following before entering:
* This giveaway is available to US readers.
* You must leave your email address in each comment OR it should be on your profile in order to win.
* Winner will be selected at random through random.org.
I WILL RESPOND TO EACH COMMENT ONCE WINNER IS SELECTED... I HAVEN'T FORGOT ABOUT YOU ALL!
I did not receive any compensation for this. Pandeez is offering one of my lucky readers a package of disposable panties. Information taken directly from Pandeez website.