PEACE AND PLENTY: Finding Your Path to Financial Serenity
By: Sarah Ban Breathnach
Thanks to Hachettebook, I am able to give away 3 copies to my readers! Continue reading to find out how to enter.
Description
"When money is plentiful, this is a man's world. When money is scarce, it is a woman's world." Unearthed in a 1932 Ladies Home Journal, this quote is the call to arms that begins PEACE AND PLENTY, Sarah Ban Breathnach's answer to the world's-- and her own personal-- financial crisis. As only Ban Breathnach can, she culls together this compendium of advice, deeply personal anecdotes, and excerpts from magazines, books, and newspapers-- particularly those of the Great Depression-- to inspire readers who are mired in today's financial difficulties.
Focusing on her own personal path, Sarah Ban Breathnach will relate never-before revealed details about how she fell from the financial top to the bottom. Readers will immediately see how deeply she understands the plight of those trying to maintain a happy and comfortable home, while at the same time not even knowing if they will be able to make the mortgage to keep that home.
Sarah has proved to be the voice of comfort for years to women who are spiritually bankrupt, and now she will reach to those who are financially strapped, showing them how to pull themselves out of their psychic and fiscal crises while providing deep comfort and reassurance throughout.
My Thoughts
I received
Peace and Plenty
yesterday, and I'm already 1/3 through the book. I originally wasn't sure about the book, as the front cover didn't peak my interest. The description of the book is what caught my attention, and got me to read past the first page! The book is inspirational, and quite comical at times. My favourite quote that got me hooked:
" When money is plentiful, this is a man's world. When money is scarce, it is a woman's world.When all else seems to have failed the woman's instinct comes in. She gets the job. That is the reason why in spite of all that happens, we continue to have a world.
Once more the job of managing the households is up to the women. To many the job seems utterly impossible. They find themselves working against strange, unseen forces that relentlessly destroy.
The old rules - the rules that were set to jazz by the stock sellers and the politicians - simply do now fit... Everyone has lost something in terms of money, and a few have lost everything. It makes no difference if the income came from investments or from a job. For those who have lost everything, there is nothing but a fresh start needed."
- Ladies' Home Journal, October 1932... author's inspiration for the book!
To enter my giveaway:
1. Follow my blog publicly via Google Friend Connect (or tell me if you already do)- 1 entry
(leave 1 comment)
BONUS:
2. Vote for me on: We're on the Fence, TopMommyBlogs, and Ola Momma - 3 entries
(leave 3 comments)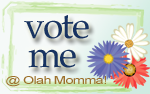 3. Follow me
@kimmie_1980
on Twitter (or tell me if you already do)
once per day
-
1 extra entry (leave 1 comment)
4. Tweet the following tweet,
once per day
for 1 extra entry
(1 comment) per tweet:
"
Win your own copy of Peace and Plenty
@kimmie_1980
http://tinyurl.com/23farfl
(11/28) #giveaway"
5. Follow me on
BlogFrog
-
1 extra entry
(leave 1 comment)
6. Follow me on
NetworkedBlogs
-
1 extra entry
(leave 1 comment)
7. Subscribe to my feed through email-
5 extra entries
(leave 5 comments)
8. Blog about this giveaway (please link back here, and leave the URL of where you blogged in your comment) - 10 extra entries
(Comment 10 times to qualify for bonus)
9. Add My button to your blog, and let me know where it's located - 5 extra entries
(Comment 5 times to qualify for bonus)
<a href="http://amoroccan-acat-and-my-bigass.blogspot.com/"><img src="http://3.bp.blogspot.com/_8If77NE0SuM/TAWWelUZWgI/
AAAAAAAAAao/385sy7l5VFg/s320/Button.jpg" /></a>
***Giveaway ends November 28 @ 11:59 ET!!!!
*** Make sure you leave the right amount of comments so you get the proper amount of entries.
http://tinyurl.com/23farfl
Please read the following before entering:
* This giveaway is available to US/CA readers.
* You must leave your email address in each comment OR it should be on your profile in order to win.
* Winner will be selected at random through random.org.
I WILL RESPOND TO EACH COMMENT ONCE WINNER IS SELECTED... I HAVEN'T FORGOT ABOUT YOU ALL!
Peace and Plenty
from Hachettebook was given to me for review. I did not receive any compensation or incentive nor was I required to write a positive review. Individual results or experiences may vary.